Measuring the International Appeal of Novels
Marijn Koolen
eHumanities Group, Amsterdam, 15/01/2015
Overview
Introduction: Beyond the book
Approach
Experiments
Tool criticism
Beyond the Book
Investigate globalisation in literature
NL eScience project, digital humanities cluster
Team:

Karina van Dalen-Oskam (Huygens ING, UvA)
Floor Buschenhenke (Huygens ING)
Carlos Martinez-Ortiz (NL eScience Center)
Marijn Koolen (UvA)
Research Question
Are there textual aspects of a novel that contribute to its international appeal?

no doubt many factors contribute: fame, trends, economy, ...
we focus on the text
Measuring International Appeal
Two parts:

Establish international interest in novels
Identify potential textual aspects
Establish International Interest
Which novels are internationally appealing?

those that get translated in different languages
those that get sold in many countries
talk to translators, publishers
Identify Textual Aspects
Many aspects possible
We start with named entities and topics
1. International Interest
Book Markets
International book market

How does tranlation market work?

Germany is gateway for Dutch novels

English translation is epitomy
Translations Dutch Import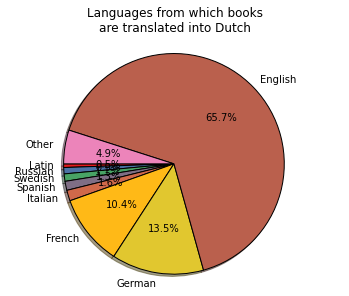 Translations Dutch Export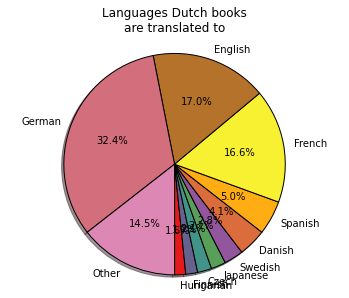 Operationalising International Interest
Proxy for interest:

number of lanugages translated to
number of non-Dutch editions
number of English language translations

Translation data from WorldCat

seems more extensive than Index Translationum (UNESCO)
Other Signal of International Appeal
Popularity and appreciation

number of people who read the novel
number of people who liked the novel

GoodReads provides popularity of works and editions

work.editions API
number of ratings and avg. rating per edition

Next on our list
Interviews
Conducted interviews with publishers, editors and translators on what makes text suitable for markets

diverse ideas: style, genre, themes, topics
trends are important
Topical Hurdles
Several mentioned topicality:

rugby and ice hockey don't sell in NL
e.g. ice hockey references in Mordecai Richler's work
would need lots of explaining
similarly, German crime thrillers set in Schwarzwald
Regional Interest
How can we measure regional interest in topics?

e.g. what topics do Canadians care about?
or Dutch, German, etc.
wild idea: look at Wikipedia
who views or edits Wiki articles?

Again, there are other aspects

topicality is first choice
Relative Country Contributions
Which countries contribute edits to a Wiki article?

relative to their overall contributions
Wikipedia Country Contributions
Dutch and Canadian Contributions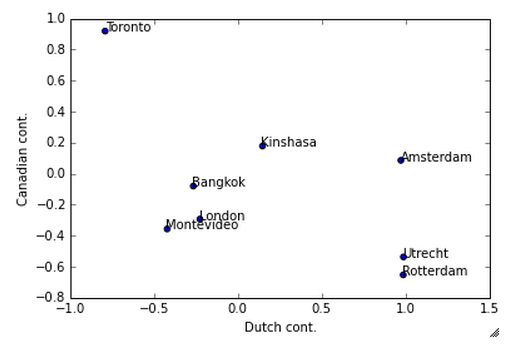 Dutch and Canadian Contributions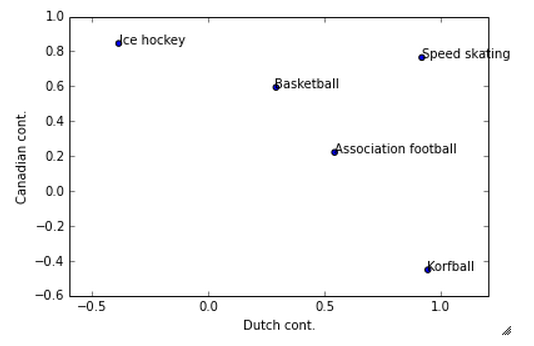 Data
Book collection:

492 Dutch novels, published between 1933 and 2008
318 translated to other languages, 27 to English

Annotating text features

named entity detection (from NameScape project)
entities linked to Wikipedia articles
Other Textual Aspects
Other textual aspects that could contribute:

idea: use LIWC to characterise novels
other ideas? syntactic analysis, topic modelling, ...
Entity Statistics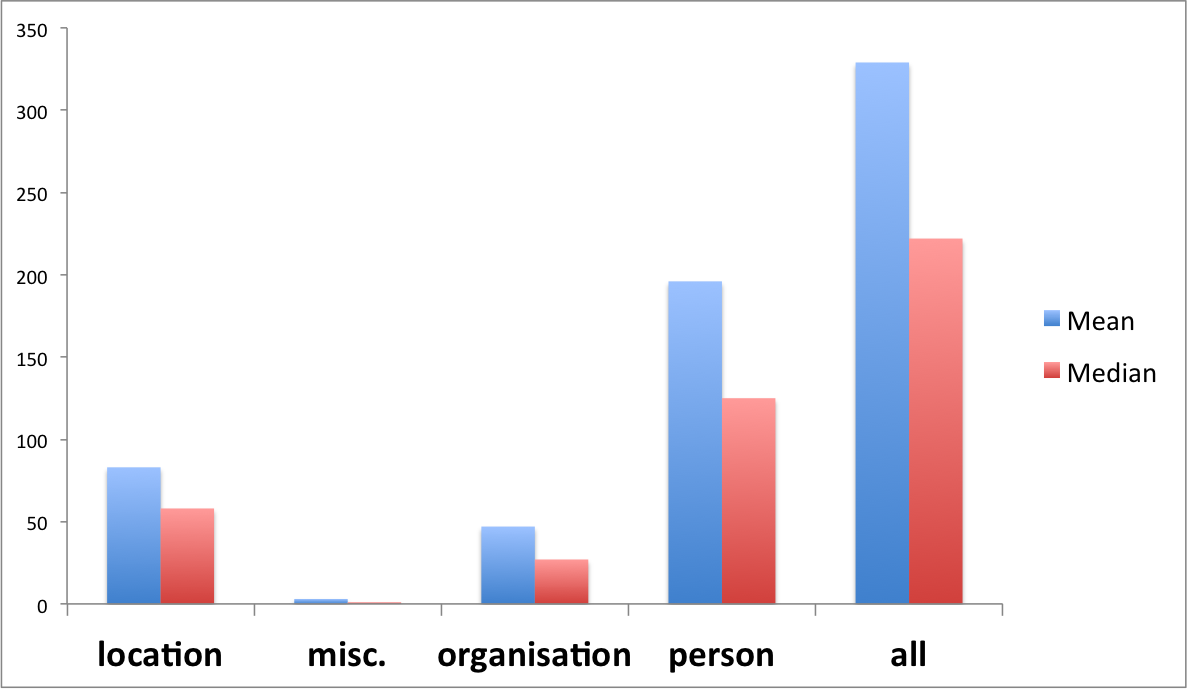 Linking Entities to Wikipedia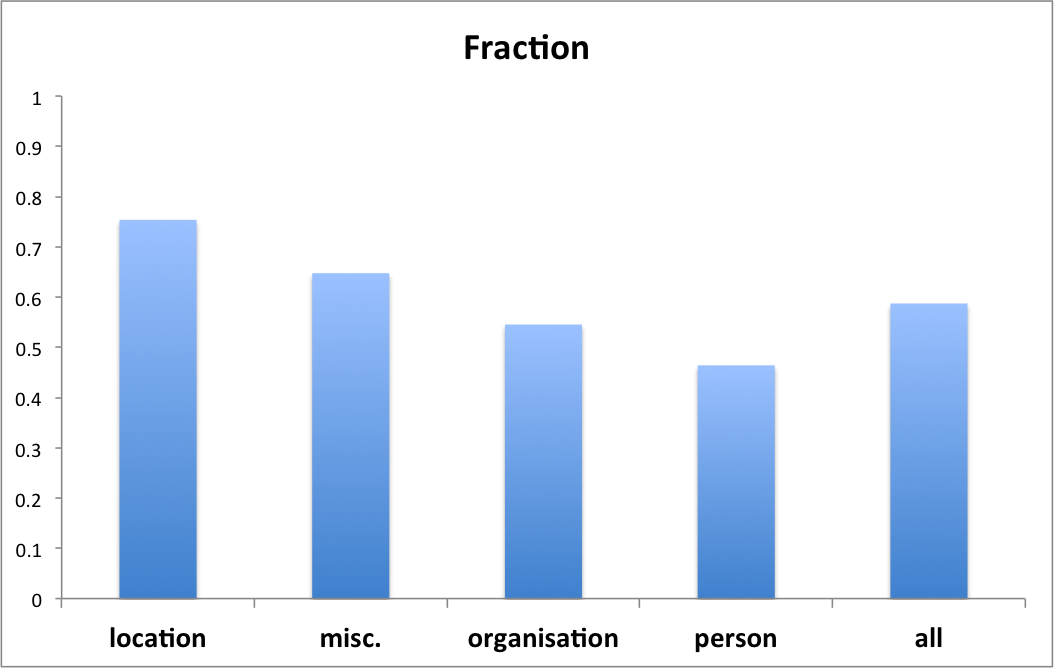 Linking Confidence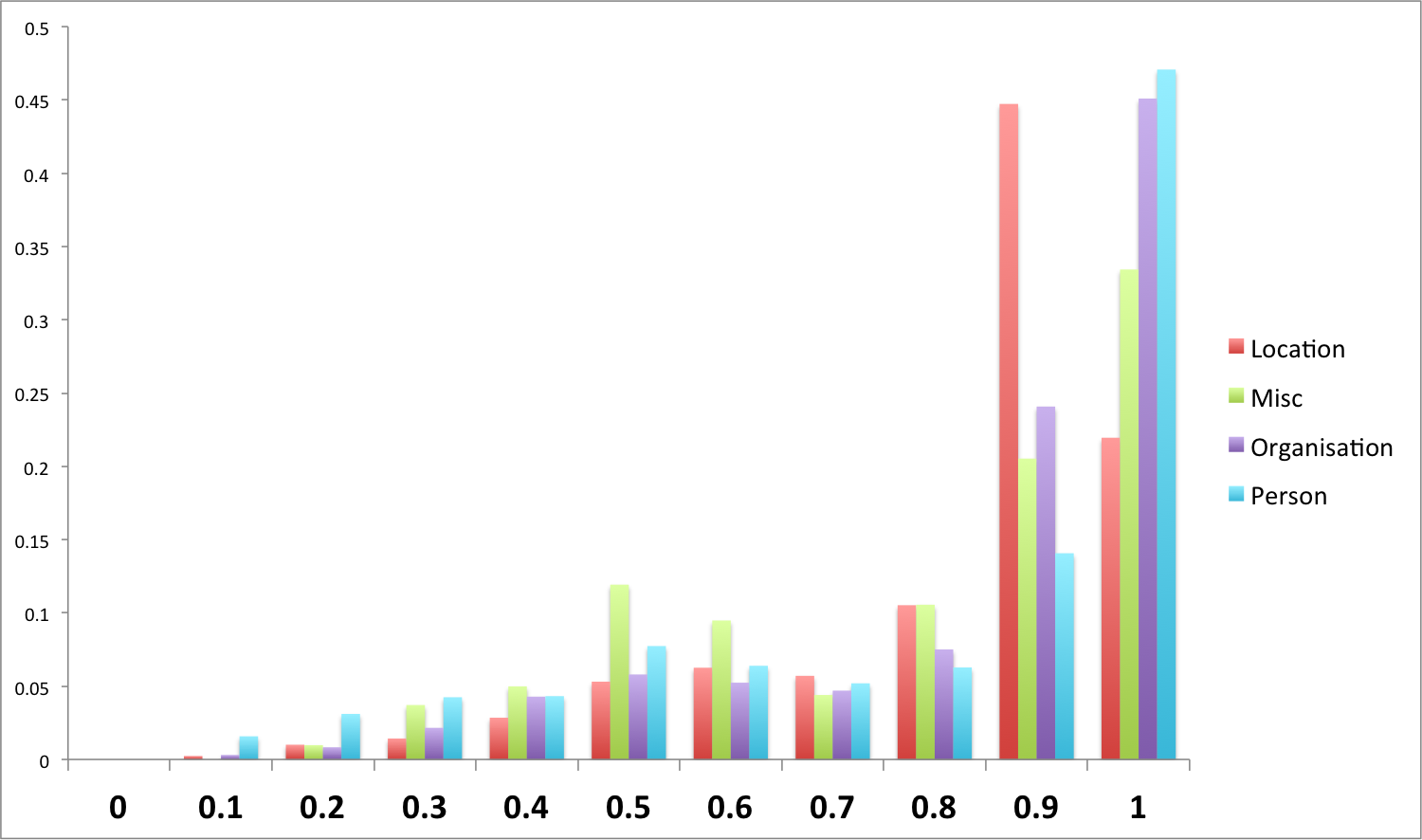 Confidence & Accuracy
Is confidence related to accuracy?

eye-balling suggests it is, but needs proper experimental test
sometimes hard to judge
stability across genres, authors?
Linked Entities
Person

high ambiguity, referring to fictional characters

Locations

low ambiguity, referring to external places

Organisations
Misc

low ambiguity, specific entities (e.g. Bible, WOII)
Internationality & Entity Type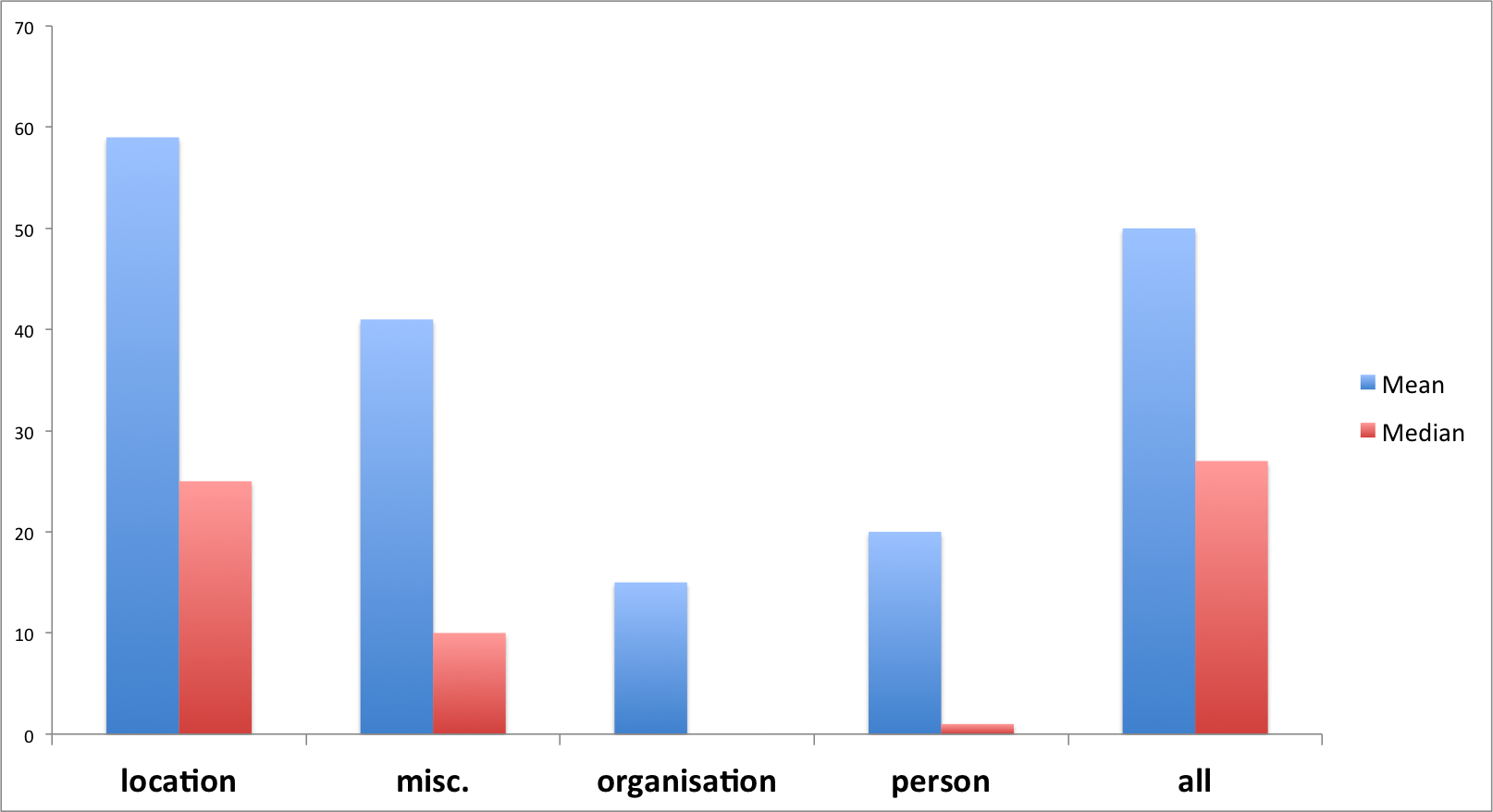 Correlations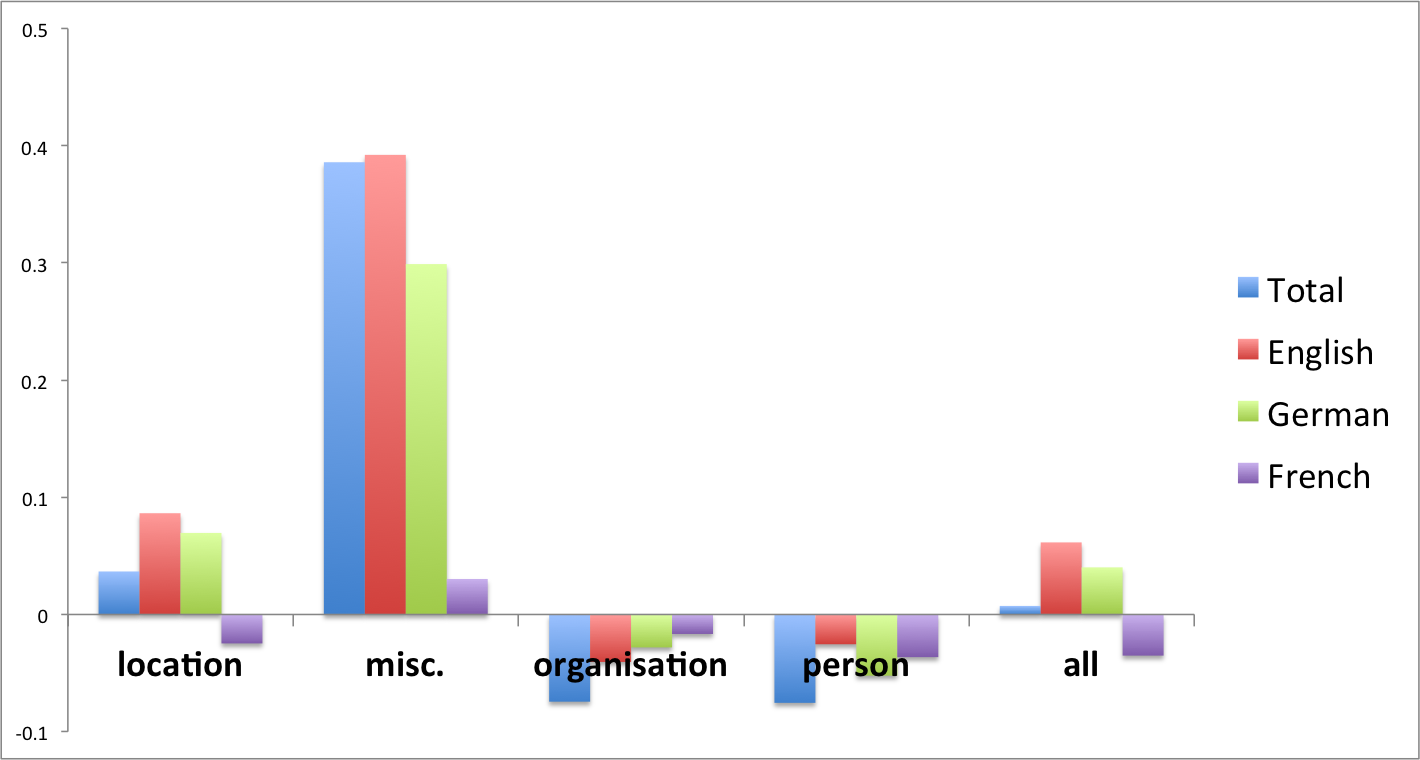 Miscellaneous Entities?
What kinds of entities are these?

events, objects, buildings, phenomena, languages
cultural references
countries (misclassified)
Source Criticism
Number of miscellaneous entities correlates weakly with

Total number of translated editions
number of English & German editions
not with number of French editions

Two explanations:

French market is not a signal
WorldCat lacks info on French editions
Wikipedia Country Contributions
Dutch vs. non-Dutch contributions

are topics edited more by Dutch people typically Dutch topics?
are novels with international topics more internationally appealing?
or are novels with typically Dutch entities more internationally appealing?
Dutch Contributions to Entities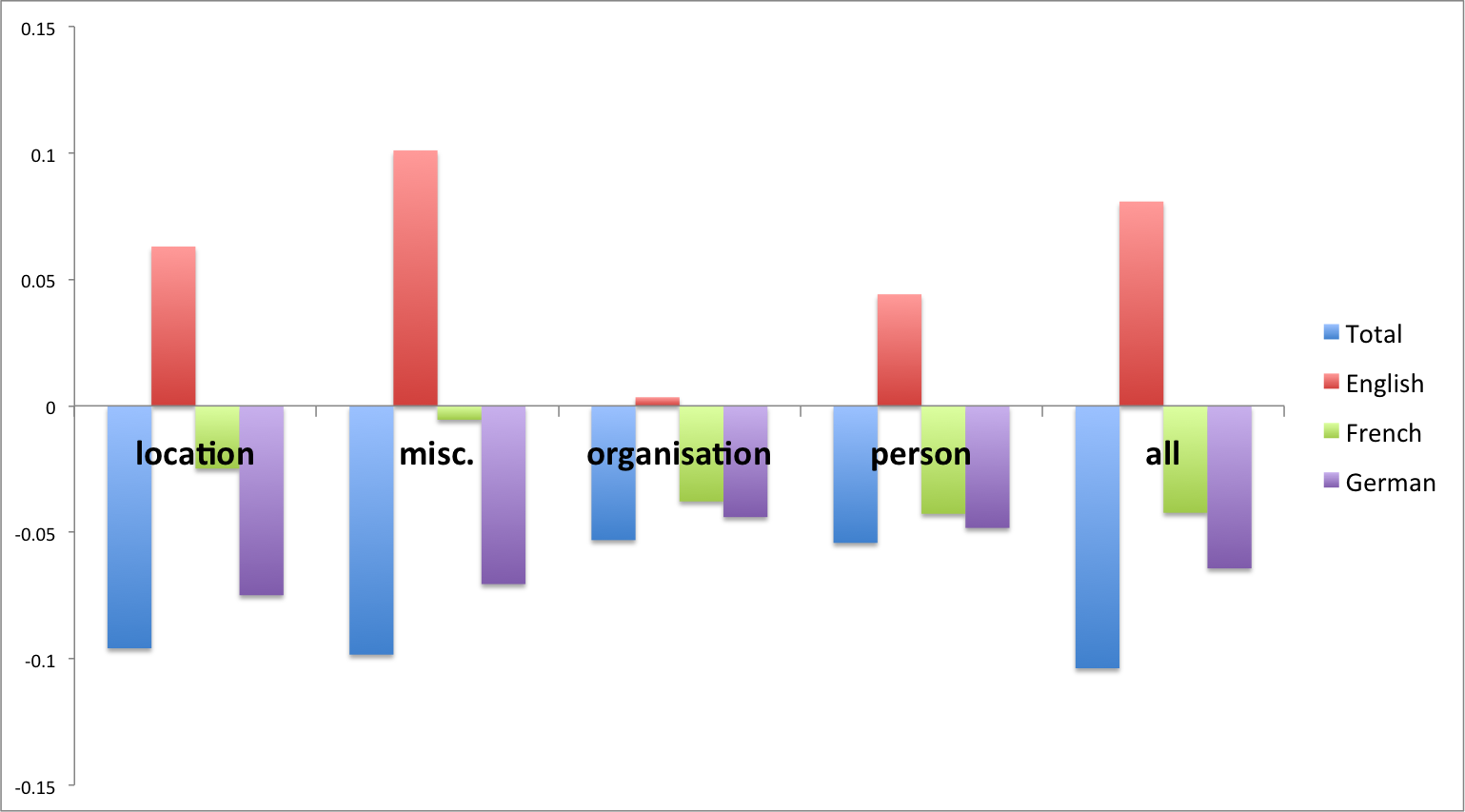 How robust are observed patterns against variations in accuracy?

random errors only a problem for small data sets
systematic errors can be fatal for any data set

What happens to those patterns when we use different tools?

of when we 'improve' tools
Comparing Observed Patterns
Use set of manually annotated named entities

compare patterns created by different tools
Conclusions
Translators, publishers say cult. interest plays a role

our analysis suppports this

Cultural refs. seem signal of international interest

non-Ducth readers prefer to read Dutch novels that are typically Dutch?
'write about what you know'

Signals are weak, decision based on many signals
Future Work
More qualitative analysis of features
Analyse other features:

textual, e.g. emotional tone, stylistics
appeal, e.g. popularity